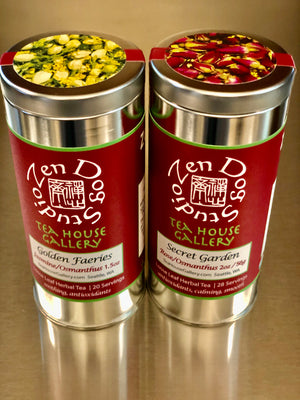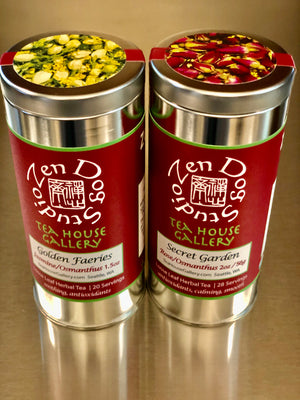 On Sale
Golden Faeries and Secret Garden (tin pack)
These two flowers like each other very much and can be brewed together to move your Qi.
Golden Faeries
White Jasmine / Osmanthus Flower Say hello to your inner child. This blend of Jasmine and Sweet Osmanthus flowers is an invitation to lighten your heart. Let your spirit dance freely as mind and body relax. Pungent, warm, rich in antioxidants and caffeine-free.
Secret Garden
Wild Red Rose and Osmanthus. Enter your garden of happiness and freedom. Wild Red Rose and Sweet Osmanthus offers a light, naturally Sweet flavor. Meditate on this tea for growing your heart's delight! Antioxidants, Caffeine-Free.