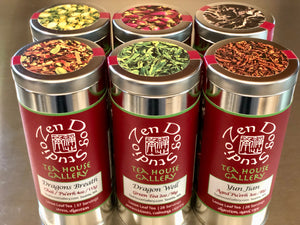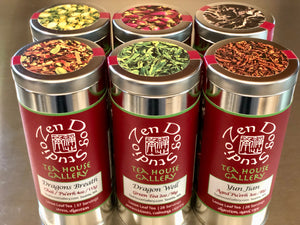 On Sale
Zen Dog Gift Pack (6 tins)
Dragon Well
Enjoy this tea first thing in the morning. Bright green wok-fired tea leaves offer tasting notes of lightly toasted hazelnuts and mist. Famous for its distinct flavor; take this classic tea to the top of your inner mountain and sip the elixir of the immortals in silence. Be clear, Be calm. Antioxidants
Golden Faeries
White Jasmine / Osmanthus Flower Say hello to your inner child. This blend of Jasmine and Sweet Osmanthus flowers is an invitation to lighten your heart. Let your spirit dance freely as mind and body relax. Pungent, warm, rich in antioxidants and caffeine-free.
Secret Garden
Wild Red Rose and Osmanthus. Enter your garden of happiness and freedom. Wild Red Rose and Sweet Osmanthus offers a light, naturally Sweet flavor. Meditate on this tea for growing your heart's delight! Antioxidants, Caffeine-Free.
Moonlight White Pu'erh
Moonlight White Pu'erh is the best of both worlds; a blend of light and dark leaves. Hand-processed loose big leaf releases tasting notes of caramelized sugars, and apricots held in suspense by a clear buttery brew. Enjoy this tea hot or iced. Dried in the moonlight over Yunnan.
Organic Dragon's Breath Chai / Pu'erh
Masala Spices and Pu'erh blend creates a dynamic earthy Chai. Fueled by the glowing embers deep within. Honeybush, Ceylan Cinnamon, Black aged Pu'erh, Cardamom Pods, Ginger, Star Anise, Astragalus, Clove, Fennel, and Orange Peel. Stress, Digestion
Yun Jian Aged Pu'erh
Bold, intriguing, dark fermented tea, roots you to the earth while highlighting distinct notes of dates and caramel. Pu'erh is know for its natural detoxification benefits and for it's refined and sought-after aromatics and flavors. A tea that gets better as it ages.